Chtri S – UK

General informations :
– start of the race at 13:30 (women's wave and team) and 15:00 (men's wave) on Saturday, June 27, 2019.
– opening of the transition area at 12:00.
– closing of the transition area at 13:10 (women's wave) and 14:40 (men's wave 
and team
)
– accessible from Cadet (from 2004 and beyond)
Chtri S
Swimming :       750 m and 1 lap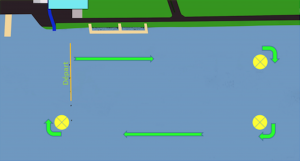 Bike :       20 km and 2 laps
WARNING :
Drafting is allowed, so you can ride in a bunch. However, drafting rules require that bicycles must comply with the regulations in force.
As a result, time trial bikes, triathletes handlebars and over-additions will be prohibited on the Chtri S.
Running :     5 km and 1 lap
View the Chtri S Paths – ICI
Refreshments :
Final: Composed of: liquid / water – coca – solid / cereal bars – fresh fruit – dried fruit – sugar – savory cakes – fruit compote – fruit salad …
Limited time :
No time limit on this race