Chtriman 226 – UK

General Information :
– Event departure at 7:00 am on Sunday, June 28th  2020
– Bikes deposit in transitional area on Sunday, July 28th 2020, from 5:00 am to 06:40 am
– Open from Junior (born in 31/12/2002)
Swimming :   

3800 meters on 1 lap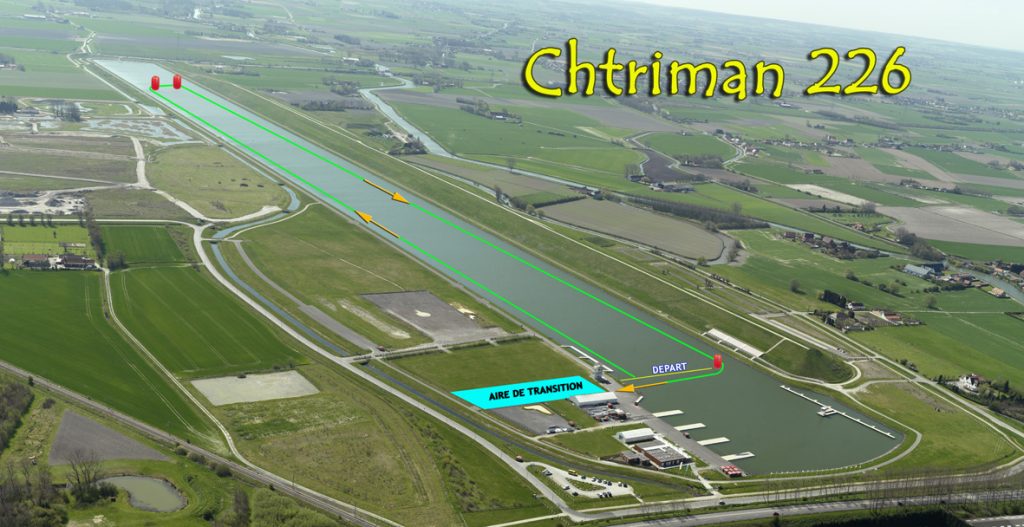 Cycling :

    a 180 kilometers and two laps
Le parcours cycliste évolue et passe de 45 km à 90 km. Il faudra donc faire deux tours pour boucler les 180 km.

Drafting is forbidden
All details ICI 
Running :

     a 42,195 kilometers and 4 laps
 
Supplies :
– Swimming course :   water, coke and hot tea supplying positioned between the coming out of water and the transitional area.
– Cycling course :   4 supplies per positioned lap (to specify) : a 60 centiliter water, coke,energy drink can, cereal bars, bananas and some sugar
– Running course :   4 positioned supplies every 3 and 3,2 km per lap : a 60 centiliter water, coke, energy drink, cereal bars, bananas, fruit dried fruit, sugar and biscuit
– Final :   water, coke, energy drink, beer, cereal bars, stew fruit, fresh fruit, biscuits and many more
Personnal supplies :
Only The Chtriman 226 racing cyclists and runners will be able to have personnal supplies. In their competitive bag, they wil find 2 different bags in which will be put your personnal supplies at your arrival on the transitional area on Sunday morning.
The cycling provisionning bag will be available (to specify) and the running provisioning one will be available for the situated position (positioned supplies N°1)
Time limit :
There are limits for 3 the Chtriman 226 sports. They are set up to secure all competitors and the good management of our volunteer friends on different courses.
The competitor who will not respect one of the limits will be disqualified and therefore will not allowed to continue the race even without number.
Swimming :   Hourly limit set at 9:00 am (departure at 7:00 am)
Cycling :   Hourly limit set at 4:00 pm (swimming + cycling)
Running :   Hourly limit set at 8:30 pm

(The walking part is composed of 4 towers, you will be allowed to leave for the final round in the event that you are starting before 20:30)