Chtriman 113 – UK

 General Information :
– Event departure at 12:00 am on Sunday, June 30 2019,
– Bikes deposit in transitional area on 
Sunday 
June 30
, from 9:00 am to 11:30 am.
– Open from Junior (born before 31/12/2001)
Swimming :

 

   1900 meters on 1 lap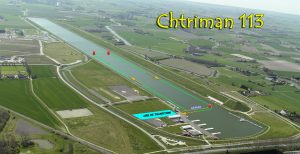 Cycling :

    90 kilometers and 2 laps
The bike course has changed dramatically since we decided to change the number of laps 1 lap of 90 km 2 45 km of twists and always to 250 m of elevation on the entire route.
This choice also allow us to improve the management of safety especially during these troubled times.
We will take advantage of the many passages triathletes on PAARC site to boost our animations. Viewers can support their athletes in each pass.

Drafting is forbidden
Relatively flat and perfectly safe course. See HERE
Running :

     21 kilometers and 2 laps
 
Supplies :
– Swimming course :   water, coke and hot tea supplying positioned between the coming out of water and the transitional area.
– Cycling course :   4 supplies per positioned lap (to specify) : a 60 centiliter water, coke, energy drink can, cereal bars, bananas and some sugar
– Running course :   4 positioned supplies every 3 and 3,2 km per lap : a 60 centiliter water, coke,energy drink, cereal bars, bananas, fruit dried fruit, sugar and biscuit
– Final :   water, coke, energy drink, beer, cereal bars, stew fruit, fresh fruit, biscuits and many more
Time limit :

    no time limit on this race